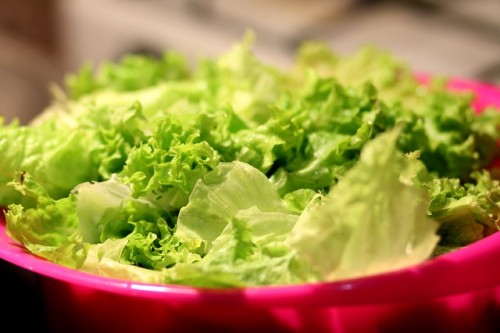 Has you ever felt a little bit sleepy after eating a salad? Or lightly constipated when you eat a very large salad?
Lettuce contains a substance called lactucarium that "is known as lettuce opium because of its curative sedative and analgesic properties", although it's not an opium derivative.
"The chemical constituents of lactucarium that have been investigated for biological activity include lactucin and its derivatives lactucopicrin and 11β13-dihydrolactucin. Lactucin and lactucropicrin were found to have sedative activity in measurements of spontaneous movements of the mice." (Wikipedia)
Not every person will feel the sedative effect of this substance; the sensitivity of every person is very different. But if you are a hyper sensitive person, and you react to food-drugs such as coffee, chocolate, tea, coke, spices, herbs, etc., then I recommend you to be careful with lettuce. Have salads preferably in the evening meals, and avoid lettuce if you have tendency to have constipation. But also, if you are highly sensitive, you may use it as a medicine as an analgesic!